Адриана.Василева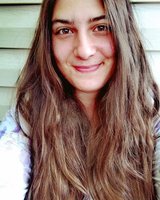 Selected works
Prose » Others

236 2 2

Докосвам плоскостта на телефона, сякаш галя любимия си. Приплъзвам пръсти по екрана с такава нежност и с такава грижа, сякаш не съм усещала кожата му от много време. Сякаш се стремя да поема всичкото знание на порите му, белезите му и мъха му.
С отдадеността на невръстно дете чертая кръгове и стрелк ...
© 2003-2019, Georgi Kolev. All rights reserved. The works are the property of their authors.